Terri Nelson
Terry Blas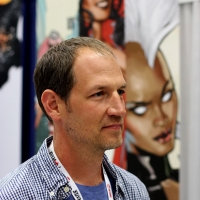 Terry Dodson
Travis Kotzebue
Wook Jin Clark
Terri Nelson
Terri Nelson is an award-winning scientific illustrator, arts educator, and cartoonist. She recently returned from Antarctica, where she was drawing under a grant from the National Science Foundation. She is available for any adventure and is not afraid to poke dead things with sticks.
Terry Blas
Terry Blas is the mind behind the ongoing web series Briar Hollow and the mini comic, You Say Latino. He is the illustrator for Mama Tits Saves the World from Northwest Press. His cover work includes: Regular Show, The Amazing World of Gumball, Adventure Time, and Rick and Morty. His latest project with Oni Press is, a fat camp murder mystery called Morbid Obesity.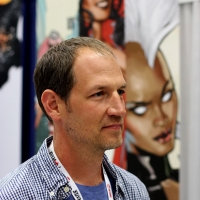 Terry Dodson
Terry Dodson has been a professional artist since 1993. He has worked on such comic books and characters as Harley Quinn, Spider-Man, Star Wars, Superman, Wonder Woman, the X-Men, Harry Potter, the Defenders, and the Avengers.
Travis Kotzebue
Travis Kotzebue is a comic artist, illustrator, and animator, and has worked for such clients as DC Comics, Disney Online, NBC Television, Electronic Arts/PopCap Games, Sony Entertainment America, and many more.
Wook Jin Clark
Wook Jin Clark was born in Seoul, grew up in Atlanta, and now lives in Portland. His primary joys are: Drawing, coffee, wrestling, and manga. He was on the Library Association's list of Great Graphic Novels for Teens in 2010 for illustrating The Return of King Doug, and in 2015 for Adventure Time: The Flipside. He wrote and illustrated MEGAGOGO Vol. OO1 for Oni Press. He has drawn Regular Show OGN vol.2 Noir Mean Noir, Buddy, and short comics for Regular Show, Bee and Puppycat, Bill and Ted's Most Triumphant Return, and Bravest Warriors, for BOOM Studios.